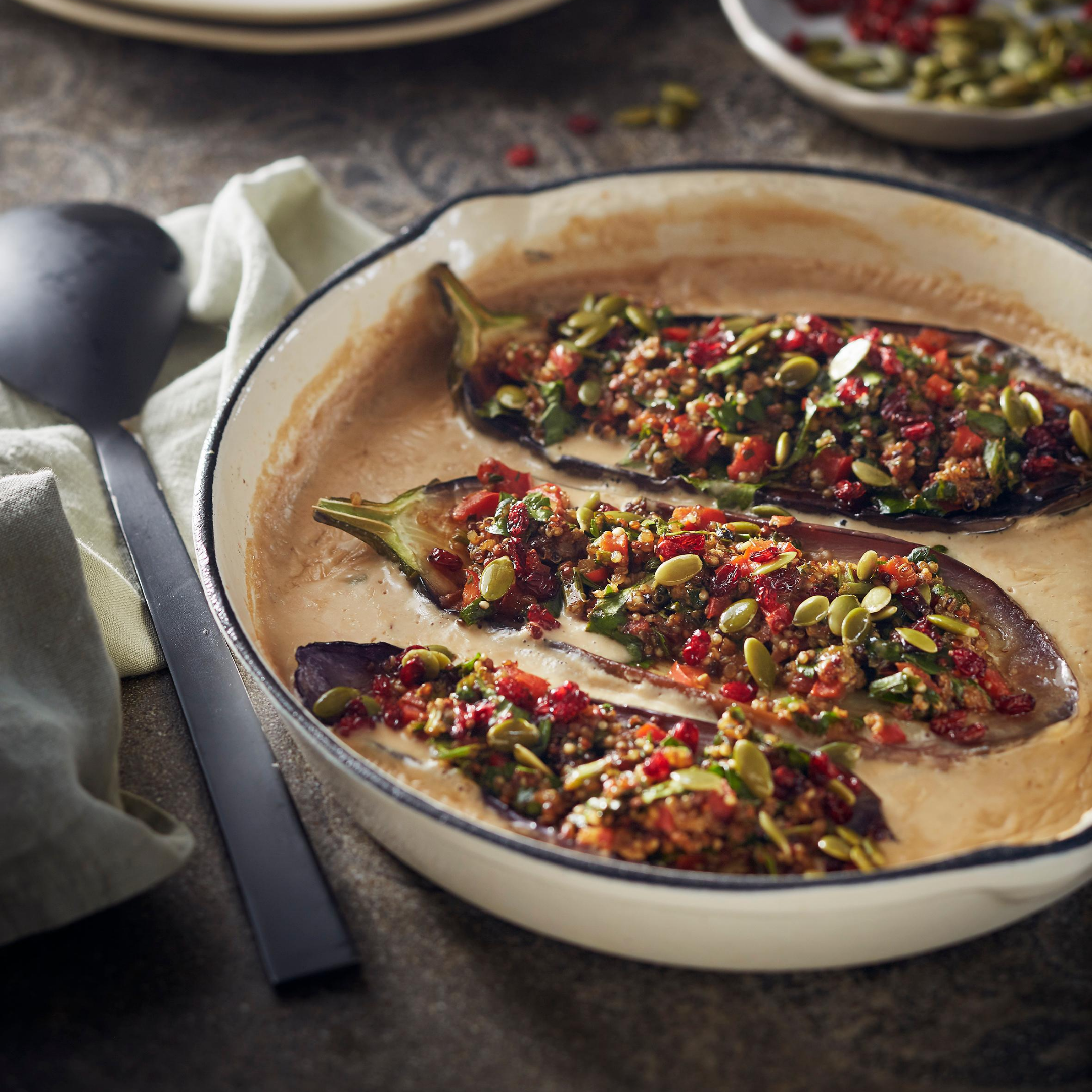 Ingredients
1 large eggplant

1 tbs rice bran oil
Filling:
100g quinoa, cooked (Page 183)

50g capsicum, diced

2 tbs flat-leaf parsley, chopped

1 tbs Yallateef

1 tbs pomegranate molasses

1 tbs Garlic Dip

1 pinch chermoula

1 pinch cumin
Sauce:
1 red onion, sliced

2 tbs tahini

1 tsp Yallateef

2 tbs lemon juice

2 cups water

1 pinch sea salt

1 tbs coconut oil

Garnish:

1 tbs barberries

1 tbs pumpkin seed kernels
Method
Cut the eggplant lengthways into long slices (about 2 cm thick). Rub these with salt and set aside for 10 minutes. Heat the rice bran oil in a pan and cook the eggplant for 2 minutes on each side. Set aside.

Cook the onion in coconut oil, stirring, until caramelised.

Mix 2 cups water, lemon juice, salt and tahini until smooth.

Add this tahini sauce to the onion, stir and remove from heat.

In a bowl, combine the quinoa, capsicum, parsley, Yallateef, pomegranate molasses, Garlic Dip, chermoula and cumin.

Spread the quinoa mixture on the cooked eggplant and place the eggplant on top of the tahini sauce in the pan. Return to the heat and cook for 2 minutes. Turn off the heat.

Sprinkle barberries and pumpkin seed kernels over the eggplants and serve by scooping out the flesh with the tahini sauce.
Shop products used in this recipe