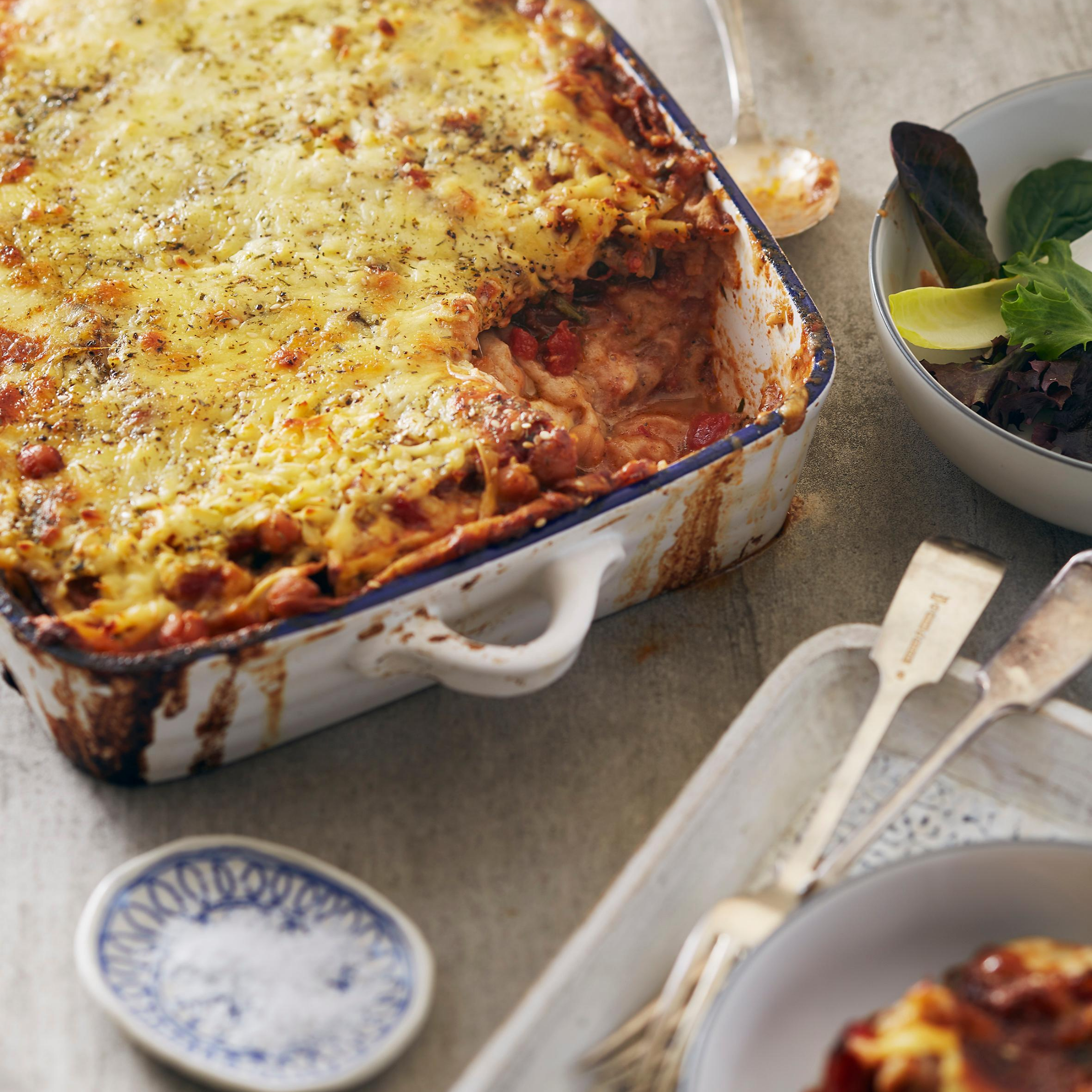 Ingredients
4 large eggplants, cut into 2cm slices and salted

2 pieces flat pita bread (preferably one day old)

1kg tomato, diced

200g onion, diced

1 clove garlic, sliced

1 x 400g can chickpeas, drained and rinsed

50g parsley, roughly chopped

200g halloumi

200g mozzarella

1 tbs Yalla Yalla

1 tbs Yallateef

1 tbs Matboukha

1 tsp dried mint

1 tsp ras el hanout

1 tsp salt

1 tsp Hawaij

1 tsp Zaatar (Marwa's Blend)

1 tbs coconut oil

1 tbs rice bran oil
Method
Sauce:
Heat the coconut oil in a pan, add the onion and garlic, cook for 5 minutes.

Add tomato, chickpeas and all other herbs and spices (except Zaatar) to the onion and garlic, then cook for 5 more minutes. Add 1 cup of water, bring to a boil and turn off the heat.
Preparing the dish:
Preheat oven to 180°C.

Salt eggplant slices and leave for a few minutes.

Spray the eggplant slices with a little oil and place on a baking tray. Bake for 10 minutes.

In a deep baking dish, spread 2 tablespoons of sauce on the base and lie a piece of bread over it.

Spread half of the eggplant slices over the bread and pour half the sauce over it.

Combine the halloumi and mozzarella and sprinkle half of the cheese mixture over the sauce.

Lie the second piece of bread, spread the remaining eggplant over the bread, pour the rest of the sauce over the eggplant and sprinkle the rest of the cheese on top.

Sprinkle with Zaatar, cover with baking paper after ensuring the baking dish is deep enough that the paper does not touch the cheese. Secure the baking paper with aluminium foil and bake for 30 minutes. Serve!
Shop products used in this recipe