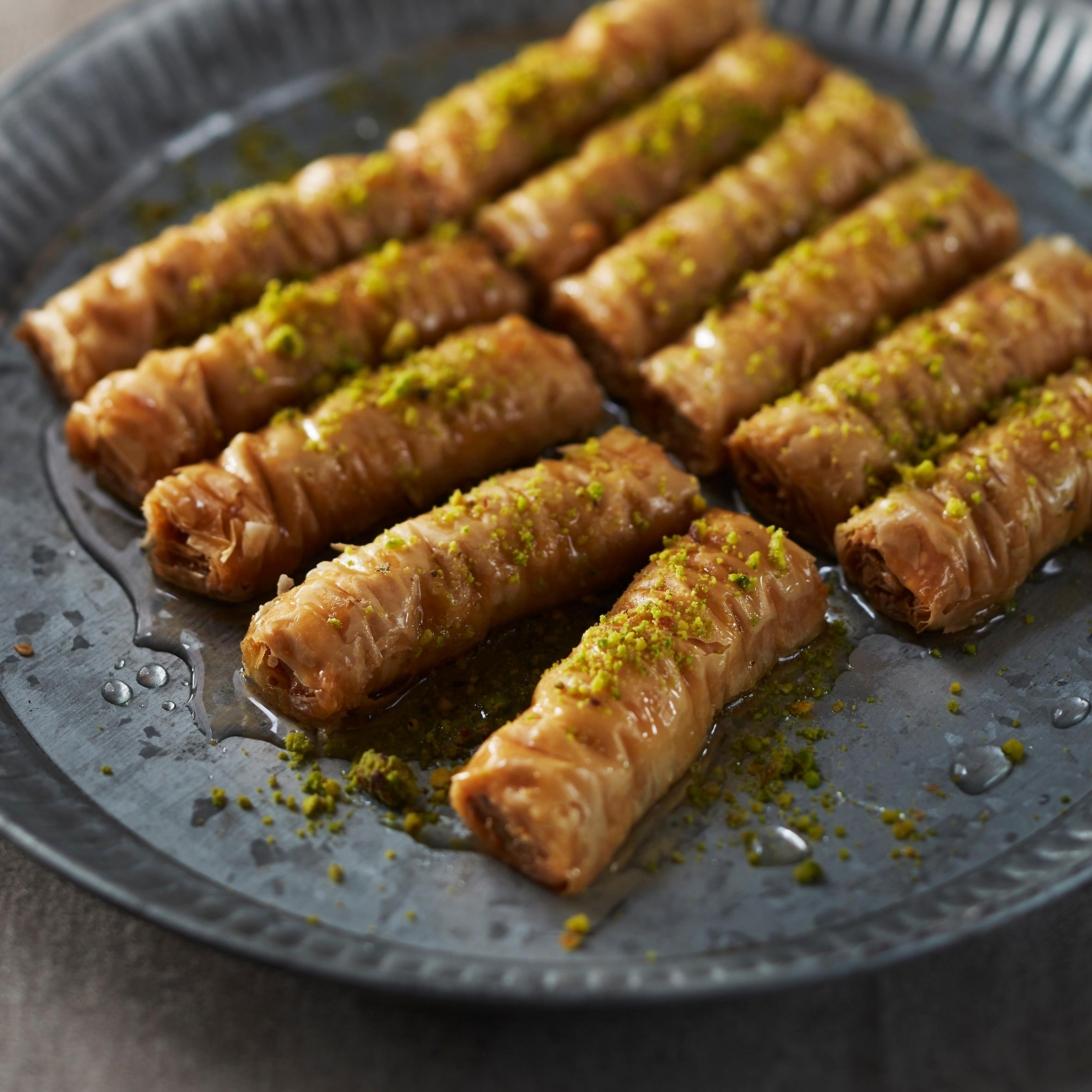 Ingredients
10 sheets filo pastry

200ml EV olive oil

200g raw cashews, finely crushed

3 tbs plain flour

Ground pistachio to garnish
Syrup:
3½ cups sugar

1¾ cups water

2 drops fresh lemon juice

1 tsp orange blossom water
Method
You will need a thin stick approximately six millimetres thick to assist in rolling and gathering the filo sheets

Preheat oven to 200°C.

Combine crushed cashews with flour.

Brush 1 sheet filo pastry with olive oil.

Place a second sheet on top so it sticks to the first.

Spread 10/20g of cashew mixture in a straight line across the bottom of the 2 sheets.

Use a rolling stick across the cashew mixture to roll into a wrap.

Gently crunch the roll together slightly to form creases along the roll to impart the design.

Remove the rolling stick and transfer the roll to a greased baking tray.

Repeat to form 5 rolls.

Cut these diagonally into 5 cm pieces.

Pour the rest of the oil evenly over the cut pieces.

Place in the oven and bake for 45 minutes.

Make a syrup by combining the sugar, water, lemon juice and orange blossom water in a saucepan.

Bring to a boil while stirring continuously. Simmer for 5 minutes. Set aside to cool.

Once the baklava is cooked, remove from oven and pour the syrup over it.

Leave in the tray for 30 minutes to absorb the syrup and cool.

Remove from the tray and serve.
Shop products used in this recipe